Le site officiel du groupe annonce la venue de Saxon à la Foire aux vins de Colmar le 14 août prochain. Alice Cooper y sera également ce jour là . Toutes les dates de concerts sont mises à jour.
Pour ceux qui ont pré-commandé le DVD « Heavy Metal Thunder – The movie », les premiers envois devront se faire à partir du 17 mai, si tout va bien …
Le coffret contiendra plus de six heures de matériels, voici les principaux chapitres :
– Heavy Metal Thunder – The Movie (the Special Edition edit)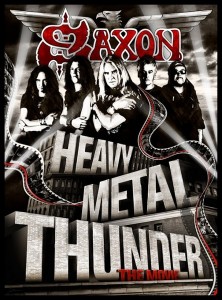 – St George's Day 2008 (concert filmé à Londres).
– Bremen 1981 concert (concert filmé au Beat Club de Brême)
– Building the Labyrinth (documentaire sur l'enregistrement de « Into The Labyrinth »)
– On a Crusade ( Interview durant l'enregistrement de « Crusader »)
– No Excuses (sessions durant l'enregistrement de « Innocence Is No Excuse »)
– The Eagle and the Bomber (mini documentaire filmé pendant la tournée de 2009 avec Motörhead).
Il devrait exister une grosse différence entre la version disponible en « pré-commande » et celle qui sera en vente dans le commerce.