Le jour de la St Georges Day (23 avril), Saxon a donné un concert exceptionnel au Shepherds Bush Empire de Londres. A cette occasion le groupe organisa un concours. Les fans devaient proposer 15 chansons dont les thèmes ont un lien avec l'histoire Anglaise. L'heureux vainqueur du jeu a gagné une guitare customisée.
Voici donc la setlist du concert (résultat du concours plus quatre titres)  :

1.Princess of the night
2.Let me feel your power
3.The return-Lionheart
4.never surrender
5.Iron wheels
6.English man o war
7.The thin red line
8.Witchfinder general
9.Sixth from girls
10.Medley (Warrior,Battle cry,Man and machine)
11.I got to rock
12.Athila the hun
13.And the bands played on
14.Power and the glory

Rappel 1
15.State of grace
16.747
17.Denim and leather
18. Ashes to ashes

Rappel 2
19. Crusader
Le concert était filmé par plusieurs caméras …
Actuellement Saxon est en tournée en Australie, une première dans l'histoire du groupe. A noter également que le label Steamhammer vient de rééditer les albums « Metalhead » et « Killing Ground » sous forme d'un double CD pour le prix d'un.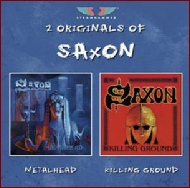 Les organisateurs du Download Festival (ex Monsters of Rock) annoncent la participation de Saxon au côté de Kiss, Judas ¨Priest, Motorhead, Rose Tattoo … L'événement se déroulera les 13, 14 et 15 juin prochain à Donington Park …
Le 11 juillet, Biff & Co seront au programme du Monsters of Rock de Saragosse.
Vous retrouverez toutes les dates dans la page "Tournée".
Les pages "Tour Book …" et "Objet Divers" sont mises à jour …