Profitant de l'actualité du Groupe, EMI a commercialisé une nouvelle compilation  » The best of Saxon ». Les titres composant ce disque sont :
Big Teaser, Backs To The Wall, Wheels Of Steel, Motorcycle Man, 747 (Strangers In The Night) (7" Version), Suzie Hold On, Heavy Metal Thunder, Strong Arm Of The Law, 20000 Feet, Dallas 1pm, And The Bands Played On, Never Surrender, Denim And Leather, Princess Of The Night, Power And The Glory, Just Let Me Rock, Back On The Streets, Waiting For The Night (7 » Version), Ride Like The Wind.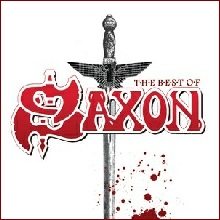 Pour commémorer les 30 ans du premier album de Saxon, il est prévu une réédition des trois premiers disques avec un son remasterisé et des bonus. Plus d'infos sur le forum.
Voici le classement de « Into The Labyrinth » dans les charts de quelques pays européens : Allemagne n°23 (chez Media Markt, album se positionne à la 8ème place ), Suède n°33,     Royaume-Uni n°119 (rock Charts n°6), Autriche n°53, Suisse n°61, Pays bas n°83.